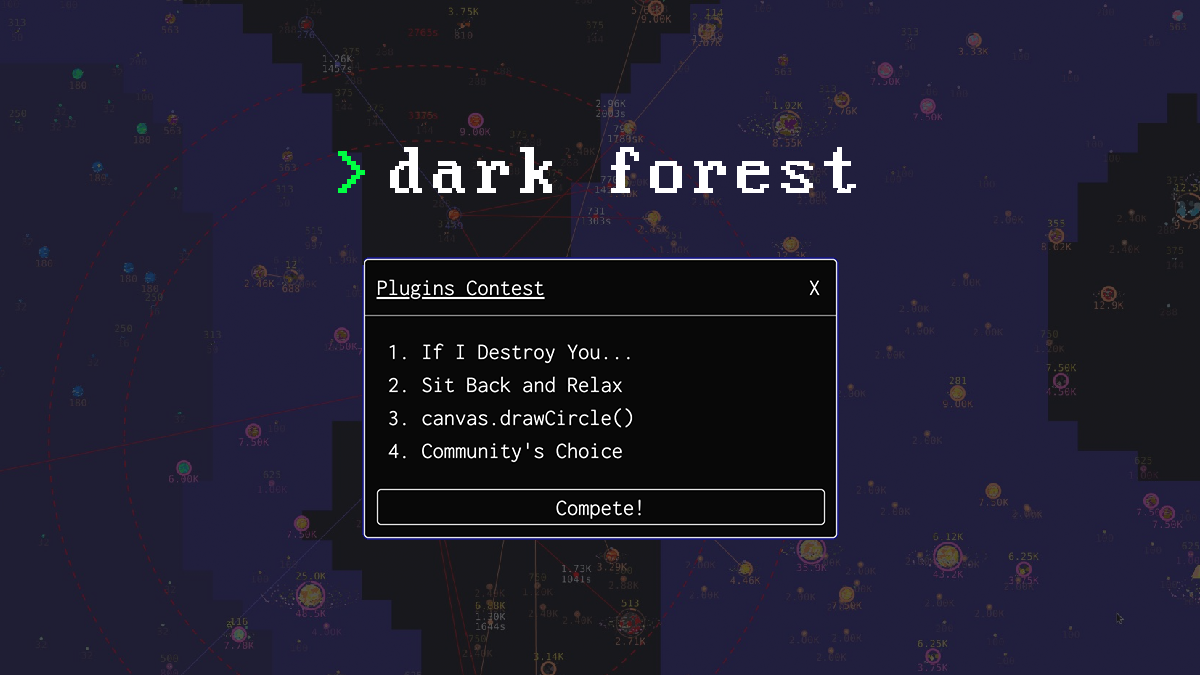 We're awarding artifacts and xDAI for our first-ever Plugins Contest!
The Dark Forest v0.5 universe is now open for freeplay mode. The universe will continue to expand, and we'll be sending out 3000 more keys this weekend to players who did not receive keys for the competitive period. A huge thank-you to everyone who participated in the ranked period of Dark Forest v0.5! We're calculating and verifying scores, and we'll be posting rankings and contacting winners in then next few days.
In addition, with the beginning of the freeplay period we're kicking off our first ever Dark Forest Community Plugins Contest!
This past round saw the introduction of plugins, which allow players to write and share automations, mods, and other client customizations with each other. A huge shoutout to Blaine Bublitz and Jacob Rosenthal for putting together an awesome community plugins repository and showcase - we were absolutely blown away by all of the amazing tools that the community wrote.
We'll be judging and awarding prizes for plugin submissions in the following categories:
Sit Back and Relax: Best automation and/or utility plugin.
If I destroy you…: Best offensive plugin.
canvas.drawRect(): Best cosmetic plugin.
It's a Town of Clowns: Silliest or most creative plugin.
Community Choice Award: The most popular plugin, as voted on by the community!
Additional categories are also possible, at the discretion of the dev team.
Contestants are free to submit as many plugins as they'd like! Each winner will receive a prize of 100 xDAI, as well as a custom Mythic-tier v0.5 artifact. Note that these Mythic artifacts cannot be obtained through normal gameplay (the highest tier available ordinarily is Legendary).
To make a submission to the Community Plugins Contest, submit a PR to this repository by Monday, January 18 Thursday, January 21. Please follow the directions in the README of the plugins repo, and include a README in your submission that indicates that you are submitting this plugin for the plugins contest. You're free to modify your submission after you've submitted it.
If you're new to plugins or want to chat, drop into the community Discord.
The seed of civilization has been planted. It will germinate and progress through the unpredictable world of Dark Forest. We invite you to log on in the future.