View the Dark Forest Valhalla NFTs on OpenSea, and check out the Round 1 Wrapup here.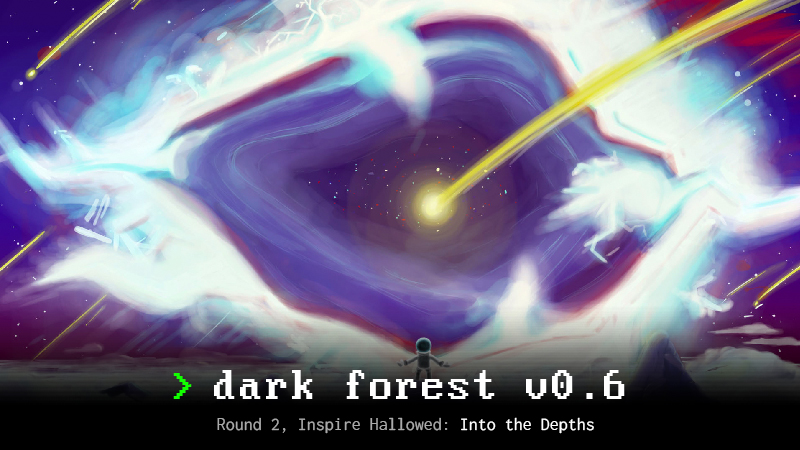 Welcome back to Dark Forest. Round 2: Inspired Hallowed will begin on Monday, June 28. This round will last 9 days, and will end on Wednesday July 7th at 9PM PT.
This round is named after the planet Inspired Hallowed, whose "Huge HAT" was purchased by @redcraftCapital. The round name of Round 3 will also be determined by the largest HAT from this round (tiebroken by energy cap and purchase time).
Invite keys for Round 2 will be sent out to all players who successfully withdrew silver in Round 1, as well as to a random subset of the waitlist. You can earn your whitelist key for Round 3 by finding at least one artifact in Inspired Hallowed. Invite keys for previous universes, such as v0.6 Round 1 and v0.5, will not work.
As in the previous round, the top 63 players will be awarded Dark Forest NFTs in Valhalla. Special prizes will additionally be awarded at the discretion of the developers for particularly creative or community-oriented projects.
Changelog
The core mechanics of the Round 2 universe are similar to that of Round 1. However, the scoring function has been altered, and we've also made a number of gameplay and performance updates.
Scoring update: Players can now earn points by harvesting artifacts on foundries. The number of points earned for each artifact depends on the artifact's rarity.
Into the depths: Players spawn in deep space; the entire universe is deep space/dead space.
Artifact stat rebalancing: Artifacts found in corrupted biomes now have their buffs reduced.
Performance updates: Lots of optimization to improve performance for players with large maps.
Mark your territory: Signal friendliness or hostility to your neighbores by placing emojis on planets you own!
Note that artifacts found in previous rounds (v0.5 and v0.6 Round 1) are NOT forwards compatible with the v0.6 Round 2 universe. As Dark Forest is still in beta, we hope to maintain the flexibility to iterate on the Artifacts API and mechanics as development progresses.
For Developers
Players have built a number of useful 3rd-party development tools. Here is an (incomplete) list of some of the available resources:
We're also in the process of refactoring the Planet data type substantially, though we intend to ensure that this refactor does not break existing plugins and third-party tools. More updates to come.
We look forward to seeing you in the Forest - happy artifact hunting.