Happy Holidays Dark Forest players!
Development Update
It has been a while since we announced Dark Forest v0.6 - we're due for an update.
In these past six months, we've shipped four out of the five rounds that we announced for v0.6: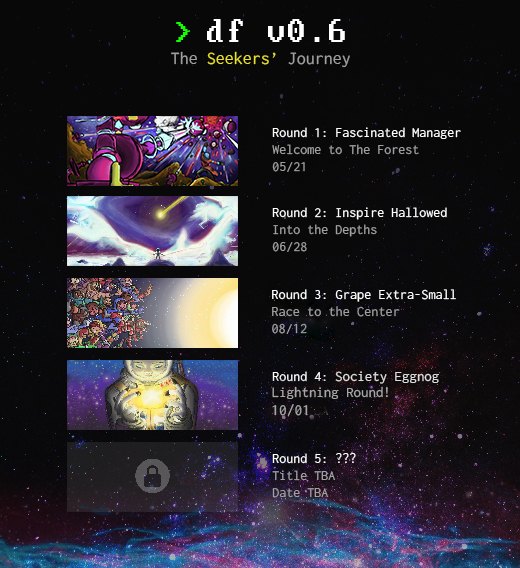 What are our plans for round 5? We hope to ship it in Q1 2022. We're going to use everything we learned throughout v0.6 (robust deployments, networking kinks, game mechanics) to deliver a longer round. This round should also demonstrate more dynamic gameplay.
Community Update
The community engagement and support (both spiritual and financial) we have received is stunning.
We are excited about groups of players organizing into DAOs. @marrowdao, @d_fdao, @orden_gg are top of mind for me. All three of these groups have built so much for the fans of DF. We are amazed at all of your dedication and enthusiasm. Thank you so much for playing our game!
Our Discord server has over eight thousand members!
Funding Update
As of the time of writing this post, our most recent Gitcoin Grant funding round has received ~ $175k from over ten thousand contributors! We sincerely thank you for your generous contributions. We continue to reinvest all our funds back into the development of the game and community.
We are also grateful to our institutional, individual, and anonymous grant-givers and donors, whom you can see listed in the about page of 0xPARC - our primary funding source.
Into The Future
In the coming weeks, round 4 of Valhalla will become available and all prize recipients will be able to claim their planet NFTs.
Once we launch round 5 in Q1 2022, we will likely close the book on Dark Forest v0.6 and look to larger improvements with a v0.7 or even higher.
Seeing the massive growth of the guilds/DAOs surrounding Dark Forest, we see a future where every player ends up joining a guild to help conquer the universe. As such, a part of our development efforts will be to support the creation and growth of these guilds.
Thank you, and we'll see you in the Dark Forest!
-Dark Forest Team